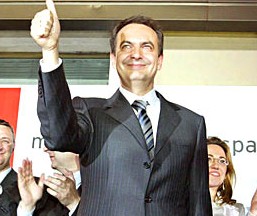 Sixth member of "Queer Eye for the Straight Guy"

Well because of the spineless EUers, they now have a new president in Spain. A socialist no less, and he has said he will no longer help with the war in Iraq. They way they see it, if they put their heads in the sand and beg not to be bothered, they terrorists will leave them alone.

This also further scares me because if the polls were any indication, the terrorists attacks directly influenced the election. Even if it didn't, it looks like it did, and the terrorists see that. With elections coming up in our country, I would be careful.